Biolase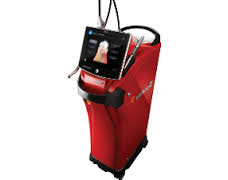 A new and wonderful era in laser dentistry has begun. Our high-tech office is pleased to offer dental laser treatments as a state-of-the-art technology to our patients. Lasers are an amazing new technology for the dental office
Lasers have the capability to:
perform gum surgery without the need for needles and no bleeding or stitches, being able to eat, drink and talk right after surgery with no discomfort.
fill teeth without the need for needles, being able to eat and talk and chew right after fillings.
remove decay from small fillings and replace them with the natural color of your tooth.
Perform dentistry without the need for a drill!
Sterilize your restoration and gum tissue as its healing
A California based company, Biolase, has introduced a dental laser called Waterlase which has revolutionized many dental procedures. This laser has been used by our trained laser dentist for more than 10 years and has been successful in the reduction of not only painful procedures but allowing dental treatments in a more conservative manner than traditional dentistry did.